On keeping cats indoors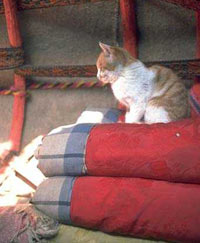 Our cats' health and vitality is improved greatly because they stay indoors. Too often we allow our cats innate survivability to impair our own sensibilities. Cats may project an image of independence but most house cats are prone to rely on the humans in their lives for companionship more than their canine cohorts.
I overheard a conversation in a supermarket parking lot that ended with a piece of asinine advice: "Just leave your cats outside while your gone. They know how to do just fine, and besides its summer so they won't freeze."
That's a terrible mistake that we make when we assume everyday will be the same. Not judging here, merely observing that as our communities grow so do the risks with the animals usually coming away the worse. Even if you live on a quiet street, traffic and dogs aren't the only concerns; just ask anyone who has endured the hassle of flea eradication and they will tell you it isn't worth it.
Seeing someone's dead pet on the roadside is always a harsh reminder that there is no undo button to bring them back.
Even fenced yards can be host to trouble from the wild, like opossum and racoon. Our current expansions into areas that were woodland pockets in the center of our town is making these once rare encounters a frequent nuisance. Neighborhoods where a pet could roam in town aren't as prevalent as they were five years ago and sadly there are people who take pleasure in torturing or killing animals. Some horrible people use captured pets as bait in dog fights. Negligence, as in accidental poisoning or pets fighting with one another, also cause harm or death.
We can't imagine how to speak to the pain of seeing one of our pets on a roadside or learning it died cruelly. We love our pets; they are true companions. Our current household includes a 20+ senior cat. She likely wouldn't be alive had we let her go outdoors. There is no conclusive proof that cats need to go outdoors to be healthy, happy and well-adjusted. However for those who insist to remain outdoor cat owners the same rules requiring they control their pets just like dog owners apply. All pets that are allowed outdoors to roam need to be spayed/neutered, vaccinated and registered with the city as per ordinance. Microchip locaters are also a smart way to protect them, as well as collars with ID tags.
Any pet that is left unattended outside can become a random target of abuse, trauma and accidental death. Please consider your role in their welfare and make the hard decision to be the boss and keep them in a safe environment. You'll feel better and they'll live longer.
Outdoor cat life expectancy averages three to five years. Cats that are kept indoors tend to live three to four times longer. We love them and would like all of you to have your pets as long as we've had ours.
For further exploration, please visit